I have completed another Pan-Mass Challenge and once again am proud and humbled to be part of such a great event. I survived the ride and have been wondering how to convey how powerful the event is. That is part of why I have been procrastinating the writing of this post-ride letter. First of all, THANK YOU to all ho have contributed to this. Through your generosity, I have surpassed my goal and achieved "Heavy Hitter" status. THANK YOU!
This year, I started in
Hillsdale, NY
with a group of crazies to truly "Pan" Mass. This extra day added a little over 88 miles to the trip. It also added some of the most challenging riding conditions Massachusetts has to offer -especially the first half of the ride. The climb up to Blandford, MA is one I will remember for a long time. Our group was 24 riders strong with several support vehicles.This group so far has raised over $250,000 for this year's PMC.
Tom LeBlanc
is the driving force behind this first leg. He did an absolutely incredible and totally professional job setting it all up. We had scheduled water stops, support vans, a Police escort (!) etc. In Honor of Tom, we all made up jerseys that said "Team LeBlanc 363/2". The 363/2 refers to an article, called
362/3
, about how PMC riders and volunteers are pretty passionate about the event. They spend 362 days a year preparing (obsessing) about the PMC and 2 days in the event itself. Since we rode for 3 days...
The hills in the Berkshires were tough -certainly harder than anything on the normal Sturbridge - Provincetown route. But it was the heat that made the Friday leg harder than the next two days combined. The temps were in the mid to high 90s with heat indexes well into triple digits. It was hard to stay ahead of the dehydration curve. I drank 2 bottles an hour and still cramped up.
It was touching seeing how supportive people are of this endeavor. Especially since this first leg is not on the normal PMC route. There were still people cheering us on and cars beeping their support. While we were waiting at one of the waterstops, a pickup truck pulled over and up onto the sidewalk. It seemed aggressive so when the driver got out and walked right up to us, I was definitely on the defensive. Then asked what we were doing and when we told him, he gave us $40 cash right there!
One of the high points to the NY - Sturbridge leg was the spontaneous Police Escort. One of the guys in the group had a connection with the Westfield Police dept and they were going to give us an escort through their town. While we were riding, the police radioed ahead to the next town that we were coming and our police escort spontaneously extended itself nearly all the way to Sturbridge! Including closing off part of route 5 (an expressway) so we could more easily get through Springfield!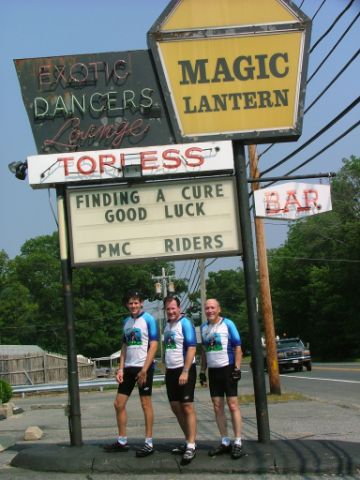 Our final waterstop was pretty memorable too. We pulled over at the
Magic Lantern
in Palmer, MA. The "employees" were more than happy to hand out water, gatorade, and towels all while wearing their work attire. I needed to use the rest room, and had to go through the establishment -which was open for business- to get to the men's room. I never thought I would see that while riding my bike to raise money for cancer research...
There was a definite physiological cost to that extra day of riding and to the heat. According to the times and average speeds for my training rides this year, I am faster than last year. Last year, I rolled into the Mass Maritime Academy at 11:00am. This year I arrived at 1:40. I was able to recover a little and finished only 2 hours behind last year's pace on Sunday (10:00am this year compared to 8:00am last year).
Once in Sturbridge, we all got registered, checked into our hotels, dropped off our bikes, watched the opening ceremonies, and got to bed early.
For the first official leg of the PMC, I made sure I was on the starting line with plenty of time to spare. The start was great! It is awe inspiring to see just how big the event is with 5000 cyclists lined up ready to ride, and to see how passionate they all are. Since I didn't have fresh legs, I lined up with the medium fast riders.
Over the course of that day, I rode with lots of different people. We would talk about why we were doing this, about bikes, what we do in the 'real word' etc. One guy had lost his daughter to cancer, and was on his first PMC ride. He told me that he is immensely loyal to the Jimmy Fund and will do this every year from now until a cure is found. He said "As I see it, they (Dana Farber / Jimmy Fund) gave me an extra year with my daughter.".
The lunch stop was as emotional as ever. Just riding up the long driveway to the high school where it is, and seeing all those big posters with pictures of kids battling cancer will get anyone motivated to DO SOMETHING.
After rolling into Mass Maritime (MMA), I showered, got a massage, ate (a LOT) and was in bed by 8:00.
The next morning (night really -it was 3:45 AM) I got up feeling a bit tired, but ready to go. The heat had finally broken and the weather looked ideal.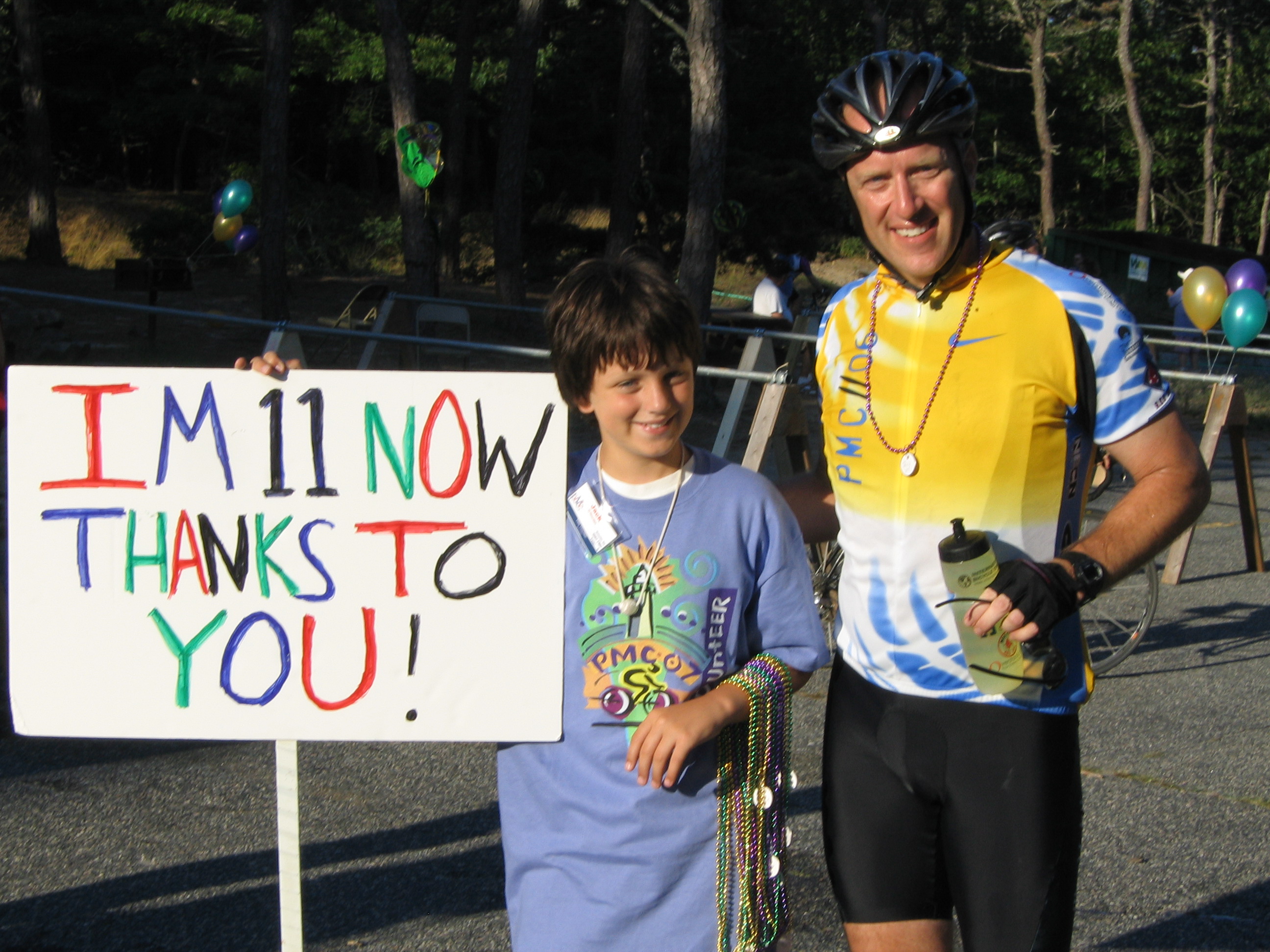 The Nickerson State Park water stop marks the halfway point along the cape. My mom was at this one along with my wife and daughter making it even more emotional. I can't explain how great it was to see them and hear my daughter Gretchen cheering "Go! Go! Go! Daddy! Go! Go! Go! Daddy!" This is also the stop where Jack is every year. Jack is famous within the PMC as the kid with the sign "I am x-years old thanks to you". He is 11 now and I got a picture. I told him how inspiring it is to see him every year -he just said "Thanks", shrugged in that awkward way 11 year olds do, and handed me a mardi-gras bead necklace.
My family left the Nickerson stop so they could be at the Family Finish in Provincetown. It was so great to see them at the end. I thought a lot about them on the ride -and it kept me going when my body was screaming at me to stop.
During this entire three day ride, I did a lot of thinking about why I am doing this. I admit that a part of why I got into it is just because I like to ride my bike fast and far. But after seeing how passionate all the people who do this are, and getting a better understanding of how important it is, I am even more resolved to do it every year. In fact, I am considering starting a team and doing it even bigger next year. Stay tuned!
If you have not yet given or if you would like to give more, you still can!
My eGift ID is:
DL0080
Or if you prefer, you could just send a check via regular mail. Make it out to "PMC / Jimmy Fund " and mail it to this address:
David LeFebvre
260 Brookline Street
#2
Cambridge, MA 02139 USA
Thank you all so much for all the support and love! I couldn't have done this without you!

Dave